Today's supper was at Ocho with JT!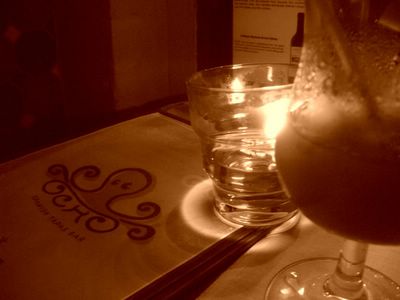 Artistic Ocho menu shot... The ambience was very good, with live musicians and sporting customers who joined in the singing.
Of course, I wasn't in that kind of mood since it was going to be a pre-departure meal with JT. Sad sad sad...

We had Sauteed Mushrooms in Cream Sauce, Chorizo Sausage (Spicy Pork) and Sangria (Alcoholic drink with raspberry and tomato juices). Can view its online menu to see the other Spanish food they serve.
The sausage wasn't spicy to me but you have to bear in mind that I ate my JC's chicken rice with 10 scoops of chilli. :P And the mushrooms were delicious! They were topped with a mixture of garlic and olives (I think) and went very well with bread.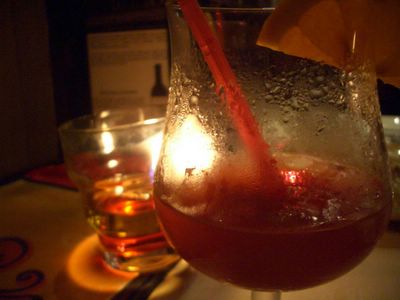 But! The drink was something else. I don't have a very good stomach for alcohol. When I downed some tequila neats a few years back, I puked 5 times and had rashes for 2 weeks. I think it was some kind of allergy and now I usually go for milder stuff at clubs.
Sangria is supposed to be rather mild. However, with my weak state of health towards alcohol, it was not at all mild.
With a few sips, I could still give an attitude pose:
But after a few more sips, I knew I was a goner when I saw 2 JTs...
Then I wandered off for some Salsa, leaving a bemused JT to trail along...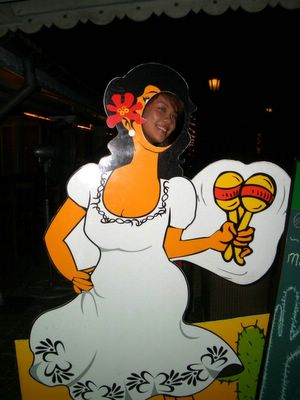 Chio bo? Cleavage leh! And Salma Hayek's figure in a pretty white dress. Hikes! (@_@"")
Heng ah! Not too drunk to remember to reveal the answer to my
this question
: What is this thing that sweetie JT bought me?
And I have a series of
装可爱
pictures to show you how this is used!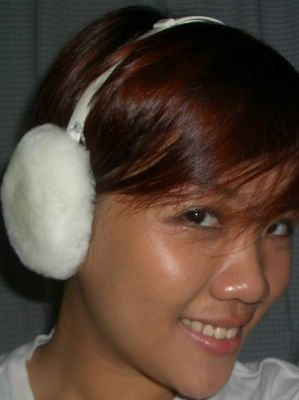 Ear muffs! Can see my pores in this picture! Yikes! Hahahaha....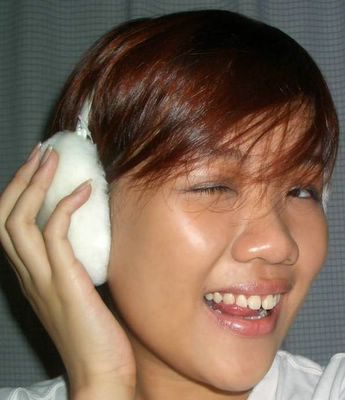 Muffies make me happy! And my tongue dances when I'm happy!

Furry white things for my ears makes me smile! And take lots of pictures in my koyak home tee! Well-worn tees are the most comfy!!!
Remember, next time, don't say adios! Say Ocho, chio chio!