I am a poor student. And I hope to remain one if I am to get to further my studies. So me and my fellow poor student friends have very little to spare on food. The most expensive meal we have are at one of those pseudo-restaurants. Why pseudo? Because they are not those with the immaculate services, perfect placement of crockery nor a wide selection. That is not to say the food is bad. On the contrary, some of the food keep us going back for more. I will really appreciate recommendations from fellow poor students diners. Here, I have come up with a few of my faves. So get ready a bucket and read on!
***
Cafe Cartel's Free Bread - $0
For something that is free, this is excellent bread. On your lucky day, you can even get those hot from the stove (or deliveryman). But because it is free, you have to choose your seat carefully. Get a place near the bread so you can snatch it up as soon as it gets refilled. Slather on the heavenly butter and you've got yourself a meal.
Coffee Club's Mud Pie - $6.50++(?)
A sinful delight. I don't really know what goes into it but I sure know it is a heavenly cool treat. There should be coffee ice-cream, chocolate ice-cream, Hershey's chocolate syrup and oreo crumbs. I prefer the Paragon outlet because there are less people and thus, more opportunities for you to tease the waiters. But please don't all flock there and deprive me of my seat and teasing chances.
Crystal Jade Xiao Long Bao & La Mian ~ $10++ (For la mian and 2 side dishes to share with your friend)
One of the healthiest on my list. This is the place for you if you like food that are light. Hey! Rhymes, right? I would recommend "
Pai Gu La Mian
" (La Mian with fried pork ribs), Shanghai Xiao Long Bao, "
Si Ji Dou
" (4 seasons beans? Lol... Just something that looks like long beans), Teh Terik (Yes, they have that and it's
aroy*
!) and Drunken Chicken. Do ask for more sliced ginger for your tiny baos and drown them in vinegar. Ahhhhh... Delicious. Should always eat the baos first because they don't taste that good when cold. Some day I shall blog about the correct way to eat them. Sadly too, some outlets are not as good as the others. The branch at Taka has good workmanship for the food but the service can be a letdown because it is usually very busy. The ginger slices here are all too coarsely chopped. A better outlet would be the one at Toa Payoh Central (near the HDB hub) where the culinary skills are not as good but the service and ginger slices are perfection.
Four Leaves' Coco Exotic - $4.50/slice(?)
Chocolate makes you happy! This cake is filled with delicious mousse and amazingly crunchy hazelnut flakes. The sweetness is just right and you get the tangy raspberry to balance out this sugar-laden sin. It can get a wee bit too chocolatey so sharing is a good idea. Maybe eat it off your partner's body part? Lol... Just a suggestion.
Golden Village's Popcorn - $8/large combo(?)
This popcorn is golden alright. With such a price tag, it better be sprinkled with gold dust. Can choose to have it sweet or salted or mixture of both. The best part about this popcorn is that it doesn't have the "lao hong", leathery texture. When I was in secondary school, they used to add melted butter on top of the popcorn. But sadly, it went missing after a while. Probably because the adults complained about it soiling their expensive working clothes or their date's shoulders.

Free baby with each combo!
MOS Burger's Iced Milk Tea -$1.95/$2.25/$2.55(Small/Medium/Large)
Those tiny milk packages that comes with this drink are so cute! But don't know why, the counter staff are usually very reluctant to give you the right amount of milk(ie. 2 for small, 3 for medium and 4 for large). The QC for this drink is also not very good. Some outlet are very stingy with the ice while others are very concerned about your sugar intake and make the drink very bland. Nevertheless, one of the best drinks to have when you need to sit down with your girls to bitch and gossip after a hard day of shopping (But shopping is never hard, so maybe just a place to put down your shopping bags?).
Old Chang Kee's Fried Stuff - From 70¢(?)
The best food are always bad for you. Haiz. Old Chang Kee has one of the best curry puffs in Singapore and the sotong whatevers are also
oiishi nehz
. Better grab a can of green tea to down this snack. Very bad for throat, skin and diet but too delicious and convenient to avoid.
Pastamania's Spicy Chicken - $5.90
White sauces are good as well but can get a bit too much towards the middle. So spicy chicken is the choice for me. I usually get mine without the peas. Come to think of it, why do peas have membranes? So they can embarass you when you are out on a date? Anyway, Pastamania give out these cards for you to get your littles stamps and collect free food along the way. I even got a privilege card! Want one? Just chomp your way throught 50 pastas/pizzas. One thing though, some outlets have pretty bad chefs. So it may not taste the same everywhere. I think the best is from Suntec's foodcourt. I once went for the mushroom soup at an outlet where it had the taste of rust. Not very appetizing.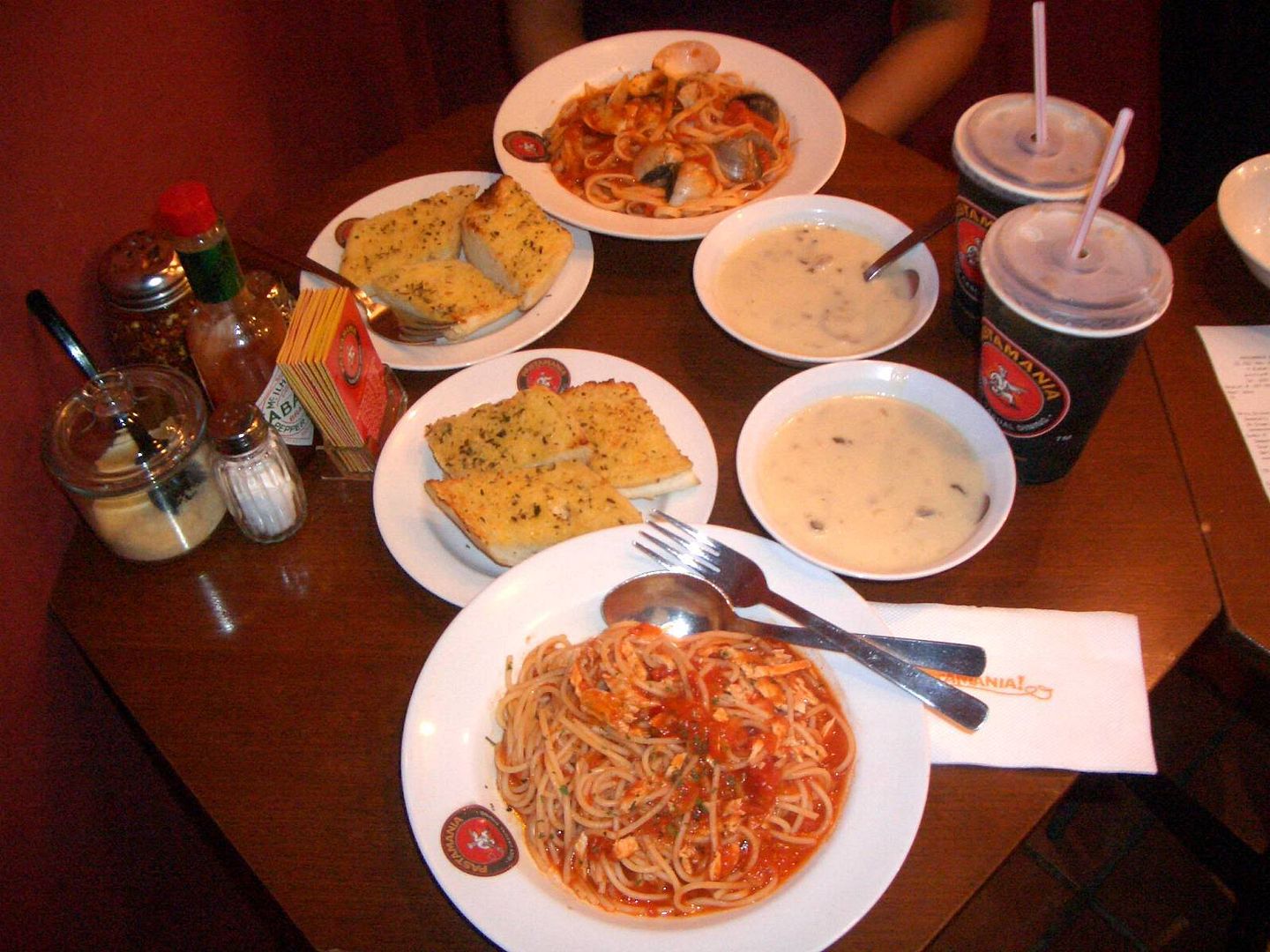 R.S or R.K Prata Shop's Milo Dinosaur - $2.50
I suspect they drug the concoction of milo, milo powder, ice-cream and lychee because I keep thinking about it! At a mere $2.50, you get this huge mug of heatiness. But the lychee/logan saves the day! Pop it at the end to feel its cooling effects. Almost a meal in itself.
Shihlin's XXL Crispy Chicken - $3/serving
More fried goodies. Served piping hot from the oh-so-fattening oil, this chicken is fried after you ordered it and mixed with a variety of spices to create a sneeze-inducing vapor. So stand away from the staff as they bang the two cans of powdered spices together. My only complaint is this lousy female elderly staff. She does her work very sloooooooooooooooooooowly, kaypoh about things that are not in her charge (like giving people change, telling customers off when they ask when their food will be ready, introducing the new drinks they have) and short-change you by giving you a 50% discount (off the weight of your chicken that it). I always forget to note down the email address so I would really appreciate it if anyone can let me know the channel to complain. I happened to be the recipient of her bad service for 5 times and each time is worse that the previous. But the chicken is really nice because it's served hot and you can even choose to have it spicier or otherwise. Yum!

Check out the men behind the chicken.
***
Come come, share some affordable places to eat with me. Preferably those under $20 and can be found at a number of places. Heh heh. Can feel my stomach rumbling already.
*aroy = pronounciation for delicious in Thai.