It had come to the end of our stay at Hanging Rock. Too fast! We took our time getting ready to leave because it was not likely that we would return here, the four of us together. JY was going to Adelaide to continue her studies, R would be flying home in a week's time or so. D will still be sticking around, perhaps a little more forlorn without someone... x:
If the owners of Hanging Rock are reading this, I apologise for not leaving earlier because I had thought that the check out time was 12.30pm, which is dumb really. Who would let you check out that late? Hahaha.. That was the check in time; we were supposed to check out at 10am. Opps!
Nevertheless, we enjoyed a nice beautiful breakfast at the dining area. It's a very lovely place. I would love to go back there if someone can drive.
*HINT HINT*
We realised we had not eaten our tomatoes and lettuce. It was too troublesome to prepare them for our picnic yesterday. So there was going to be a salad! I came up with my own dressing from watching hours and hours of cooking show. Just add lemon to the mayo! Pinch of salt and pepper and tada! You get lemon-added-to-mayo dressing. Interesting taste.
I was frying cheese omelette and ham when Roxy came!

You want some ham don't you? Aww...
Look at her! Your heart can melt can! When I went nearer, she started whining a bit, not in an annoying way though. She can do no wrong! But we had to harden our hearts and not feed her because she's rather chunky already and salt and dogs' fur don't match.

She's so smart! She threw us pitiful looks!
After a while, I opened the door and she started licking me. What a sweet dog! She tried to come into the house, but we kept her out. She sat on the deck, with her head on her front paws, looking dejected. When she realised she wasn't going to get food from us, she shook herself and walked off. ):
I got to show you more photos of the beautiful chalet! I realise I write mainly about myself nowadays but I don't care! Muahahahaha!!!

Check out the view yo!!! WOOOOOOOOOOOOOOOOO!!!

Yet another rainy day! PAH!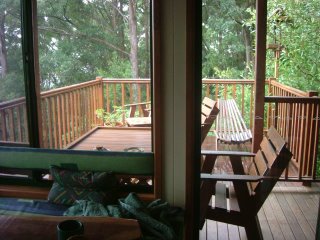 The dining area. It's all green. Green chalet, remember?

Down, and down the spiral stairs... *woozyyyyyy*

Stop for a little photo session! :D:D:D

Down the stairs, into the bed!

Watch out for this sign when you go there!
After breakfast, we headed outside because it's simply too beautiful to resist. Can you imagine paying $300 for 4 people for 2 nights? To die for! We went out and did what we do best!

R is understandably absent. Good on you, mate!

My skills are power! Everyone evenly in the pic!

Pirates of the Currumbin!
Sadly, the time had come to leave. The lady owner, Agnes, came over to remind us that she had guests coming at 12pm and needed time to clean up the chalet. Opps! We really got the time wrong. Roxy came with her. When she saw me, she was thumping and wagging her tail. What a gorgeous dog! I like!!!
Before we came to Currumbin, we checked the Internet and found out that there was a rock pool nearby. But the directory did not show it, so we just had to go and search around. Today, we wanted to go to
Dreamworld
too. Not much time! By the way, my throat got better but not my injured spirit at how they trashed me at the aeroplane game
yesterday
. :(:(:(
We drove downhill and explored a bit for the rock pool. It proved to be elusive. Where the hell is it? We turned into a small road but it appeared to be heading towards a farm. When we turned back out to where we came from, we saw the sign. Tada! Blind my friends, blind we are! :x

Tiny, tiny pool. Not amazingly spectacular, but Singapore don't have! Die, die must see!

In true tourist style, die die must take photo! We've been there! Yay~
Now that you have seen the pool, you will understand why I was so amused when I saw this sign.

If you are so stupid to dive in such a rocky pool, you really deserve to die. It's not called a 'rock pool' for nothing.
When we walked up the stairs, a huge, huge, huge unRoxy dog stood there barking at us. I did not see it; the others did. Apparently it was a guard dog from the nearby farm. The kind can rip your arms off kind? Scary! We went up the stairs from another way. By the way, you can BBQ there. There's a public toilet as well.
Onwards to Gold Coast, exit 54! Dreamworld!!!
Over a decade ago, I went to Dreamworld. I was looking forward to visiting it again because in my memory, the place was a scream. Literally. Unfortunately, I expected too much. I took the more extreme rides but did not get much kick out of it. Nevertheless, it was great to rediscover the place and realise that I do not remember much of it at all!

First ride of the day, Wipeout. STUPID RAIN!!! Got us wet even before the ride started! BAH!
I can't remember what we took next. However, I do remember the Claw. Not because it was scary, mind.

As it goes up and down, ala Viking, it turns.
I remember it because I chose the wrong time to blurp. I blurped just when the force was pushing me back into the seat. The pressure compressing on your stomach is not a good feeling at all. Not good, no, no... :(

"Wa neng nan, zjui ding ya tio zi gi shio hor shua..." Shoo bee doo~~~
I had thought that because I was older, I would be more afraid of the rides. Not true. I'm only afraid of rides that turn and turn and turn because they inspire nausea without an ounce of fear. BAH!!!
Perhaps the scariest ride in the theme park, the one I was most excited about, was the Giant Drop. The free-fall ride goes up the 39-storeys high and drop you without any notice. See the video below to check out the speed. Not very scary. Bah! It would be a good ride though, if you want to check out the view and get breezy~

Compliments of R.
The log ride was quite fun because you worry tons about getting wet. I was already quite wet from the wet seats on the rides and from the drizzle that followed us throughout the trip. GET LOST!

Looks gross and obscene. EEEK!

"Hello friends! We were quite dry. Comparatively!" :D:D:D
While waiting for our turn to take the ride, we saw a group of tweenies: girls about 11-12 years old. They were dressed like adults with their lace camisoles and capri pants. I found that sad. You only get away with wearing lots of bows and ribbons when you are young. Why be in a hurry to get old? I suspect if I have my own child, he/she will be the most fashionly-backwards child, at the butt of ridicule in school. Muahahahaha!!! "Wear this patent Mary Janes, girl!" "Hook up your suspenders, boy!"
Another thing I remember about Dreamworld was its hotdog bread. About a decade ago, they had one of those boards thingy with things drawn on it then you insert your head in the hole to take photo. You would be the hotdog in the bread. I took a photo with that but it was no longer around. Bummer!

Looks good right? It's soft enough but the poor service was a big minus. All the other employees in the park, however, were excellent. I remember the cheese being melted. Hmmm...

You need a big mouth to eat the dog. Yum!
Years ago, there was this, and now it's still around. Some things don't change. And I'm glad.

Cool, eh?
You think it's easy to pose for these pics? Think again! People looking at you when they walked past! Tee hee hee... x:
With a previous few minutes left to closing time (they close at 5pm), I ran into the ice-cream palour to grab a double. How can you not eat junk at theme parks? I got boysenberry and macadamia. Heaven and earth man! The former tasted like medicine (yuks!!!) while the latyer was amazing! JY said it's the best macadamia ice-cream she has ever tasted. It wasn't very expensive too (by Australian standards). Too bad she tasted it after we left the shop, because by the time she headed back, the girl came out to close the door. Muahahahahaha!!! D and R also wanted to grab one. Sorry, mates! I have ice-cream~ You have no ice-cream~~~ :P
We got lost on our way back because we could not find the dim sum place at Logan. Ended up at Rosalie eating pasta and pizza. I have been lusting for spicy pasta since JY ate hers yesterday when I had a sore throat. ):

JY's was better. ):):):
I thoroughly enjoyed the trip in Currumbin and the getting lost sessions along the way. I only wish we had time to enjoy the chalet because it's not the hotely kind of accommodation. It's a crime to just go there and eat and sleep. Taking some time to admire the surroundings and the chalet itself would be heavenly.... The mad dash for groceries on
Day 1
was hilarious (on hindsight ONLY); the extremely loooooooooooooooooooooooooooooooooooong hours on
Day 2
was a lesson in relativism, and Day 3 just taught me how memories can be faulty and that it's a good idea to remove earrings when taking rides if you don't want your earrings to pierce the soft back part of your ear. That's a 12th piercing I don't want! Brrr...