Day 2 appeared to be more promising. We woke up to the lovely sounds of the Fab 5. JY was kind enough to give up her room to me while she took to the sofa-bed. *weeps* She loves me, she really loves me! I love you too, sweetie!
So bright and early, I sat on the sofa watching Queer Eye while JY ruled over her bed again for a little nap. Cheekie is the most, most, most obedient and heart-stealing dog I have ever seen. That little girl loves your attention. When I sat on the sofa watching the show, she jumped up beside me and promptly flopped onto her back, asking for her belly to be scratched. At her pleading look, I scratched and rubbed her belly until my arms ached. And still I continue. A true sign of a human with heart stolen by the little furry ball.
4 Tim Tams later, we were finally ready to leave. Although it was sunny, it was still cold. I thought it was spring?! Wrong! The howling wind almost never lets up. Haiz. I am cold.
Adelaide has interesting bus stops. You can see me below standing beside one of them. If you press the lovely large button (something I would gladly stand beside and press all day. I'm a child like that), it will tell you how long it is till the next bus. Very considerate service, especially for the visually-impaired, don't you think?

But I think their minute and mine differs by 2 minutes. Hmm...
I had thought that it would be fantastic to send my housemates, whom I'm sure were missing me already, a postcard from Adelaide. I had purchased the card the previous day with three landmarks of Adelaide. Behind, I wrote:
See those places in front? I haven't been to any yet!
I'm sure everyone thinks I'm funny. Ho, ho, ho. Especially when the card arrived the day I did in Brisbane. Ho. Ho. Ho. Wu sim si ho eh! On Day 2, as we were walking down the street, JY shouted excitedly when she saw a mail pillar [?]. When I looked at her in question, she asked,
"You wanted to mail the postcard, didn't you?"

I never knew it's free to mail postcards. When I told her that I still needed to go to the post office, she thought I was mad. Until I told her about the existence of stamps. Maybe that's why I had never receive a letter from her since she went to Adelaide. Hmm...

At least we got to see the beautiful insides of the General Post Office.
Knowing that I love dumplings, she brought me to a newly opened shop in Chinatown that specialises in that. Awwwwww... She notices what I like. She really loves me!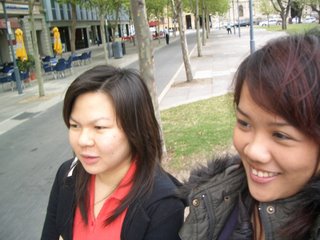 Our wind-tousled hair en route to Chinatown.
Adelaide's Chinatown is so much bigger that the miserly one in Brisbane. Brisbane's Chinatown has about 2 main roads with possibly 20 Chinese-related shops? There is a store beside Yuens supermarket that sells amazing noodles. The best is the lady who works there. She makes me feel so welcome everytime I go. A*! Anyhoo, Adelaide's Chinatown is also home to
Central Market
, a place I revisited later. First, the dumplings.

I was greedy.
I ordered a huge-ass pork chop noodle in soup and shared a plate of dumplings with JY. Haiz. Greedy la! Ended up eating less than half. The food is not bad but Crystal Jade is still my fave. Heard mum said that Taka has a new dumpling shop called Imperial that's worth a check out. Hmmm... I don't want to know.
I'm not sure if the Gouger Street is still Chinatown but along it are some small restaurants, which we would visit in the days to come. Not bad, not bad!

It has some nice paper cuttings as decor too. Wonder if it's handmade?
Donning our best Paris looks, we went into Hilton to borrow its toilet. I think what I saw behind its door is a poor, poor location for such an ad.

Input is the last thing on my mind when I'm outputing.
I'm sure the food that is nice. If I have the money to try it. ):
JY is not a good tour guide. When I noticed something and asked her, "Hey! What's that!", she didn't even bother to reply. I only see multiple shoulder shrugs.

One of the buildings I asked JY its purpose. And got the shrug of course. Had to go up close to solve the nagging mystery.
What's the city of churches without a picture of a church?

Seventh Day Adventist Church. Hope I had remembered it correctly.
Next on
our
my agenda was to visit JY's university in the city. She walked, I followed. That's one of the bad things about going around with someone who is used to the roads already. You just blindly follow and not really take note of your bearings. Now I don't even recall what the main shopping street name is. A crime, really, a crime.

General Post Office from the outside.
She took me along a street that is said to be less safe that the other streets in the city. Hindley Street looked like any other street, except that I, the lucky one, got the chance to see some Bollywood action!

I have absolutely no idea who they are but the guy in white is most probably the lead actor. Drop me a line if you want to see the clip!
University of South Australia (UniSA) is scattered all over the city. We went to its West campus, which houses the business faculty.

Not exactly the campus with the stunning architecture.
And it was also home to an experimental arts centre.

Where's the knob! The KNOB!!! OHHHHHH!!!! I'M TRAPPED ON THE OUTSIDE!!!! HELP!!!!
By my pure excellent memory, I remember, quite clearly, that this is Holy Trinity Church, the first church in Adelaide.

I remember from looking at the sign board once. Just once! WOOHOO!!!
What's a trip to a city without going to the casino? Skycity Casino was next to the rail and sucked all my $1 coins. Stupid Austin Powers pokies machine. PLAT!

You would think I wouldn't be so happy after losing $2 right! ):
We just aimlessly walked around and chanced upon Tarndanta Womma Park. At least if I'm reading my map right.

Torrens River, in the background, has a number of swans and ducks in it. Unlike Brisbane River, which is mostly poultry free. Ah well, got to buy my duck from the supermart I guess.
On the car number plates in various Australian states, you would notice that they have a different slogan for the state. What is Adelaide's? The Festival State!

Adelaide Festival Centre has to be suitably festive. Can you guess what you will see if you view the silver structures from the front of the row?

The orange building in the background is the casino. Suck my money. Damn!
Since it was Friday night, the shops would be opened till 9pm. Yay!!! SHOPPING! In the end, I didn't get much. Glad to look around the city though. Met up with WY and her friends. Saw a Spring fashion show along the street. I wondered how they look springy when the wind was not too weak. The guys all looked pissed. Male models should perfect their Blue Steel looks!
We parted from WY because we wanted to look around the city for a bit more. Other nights, you don't get the chance to see the city alive at night; shops closes at 5pm or earlier. We loitered up and down Rundle St where the restaurants are. Almost every one of them were full. Hard time to use my food theory, which states that the quality of the food is directly proportional to the number of patrons. Hard to count neh! The cold air decided for us. It was the night to eat something spicy! THAI!!!
Cafe Michael 2
serves Thai. Strange really because the name gives no such indication. I wonder what Cafe Michael 1 serves. Vietnamese? Speaking of that, there are very few Vietnamese restaurants in Adelaide, at least from what I notice. Hmm...

Ogling at my Jungle Curry with Vegetables and Spices. Not spicy at all. Haiz. Disappointment. The redeeming factor is that it was hot enough. At least got a bit of heat from the food.
Not feeling too full from my not-finished rice, we hunted for desserts.
Cocolat
is a chocolate specialty shop in Adelaide. Chocolate sounded good but there were no seats. We braved the wind and sat outside, in the back alley. While we were waiting for our dessert, an old lady came around and asked if we could spare a few dollars. My mama said when you are travelling, you should go to a temple and pray or make some donations. It was cold, no one should be out asking for money. I dug for all my coins (remember I'm not stingy! Aus has $2 coins!) and gave them to her. Then I remembered, how to take bus later! Ah well. That was a good deed anyway.
After experiencing some rude remarks from a lady who was upset that we were taking her seat when she was leaving (yeah, I know, WHAT THE FUCK?!), we dug into our dessert.

Our sticky date pudding. Not nice enough. Freestyle Tout in Brisbane is way nicer. JY thought it was good though. I'm a caramel sauce fan and not a almond ice-cream fanatic. Nope.
As we were walking towards the bus stop, I found a $10 note on the floor! WOO!!!! GOOD KARMA?!?! BECAUSE I GAVE THE OLD LADY SOME MONEY?!?! I would like to think so. Although I looked for other people to give the $10 to, I saw no one asking for money along the way.
I still have the warm, happy feeling in my heart from the good return. :D