After a whole day of travelling on our cute Mercedes mini-bus
yesterday
, we were ready to go back to some good ol' walking. First order of the day: visit
Sydney Fish Market
.
I cannot begin to tell you how many people thought that since I stay in Brisbane, I will be able to get lots of seafood.
Hello!
The only seafood I can get are those frozen, smelly prawns and fish from the deli. Anything better would cost a shitload. Shitload I cannot afford. So when in Sydney, go to the fish market and pig out!
Before that however, because of some boo-boo with the hotel reservation, we had to move from Room 237. Since it's the last morning there, got to take some photos yeah?

"You look like you are waiting for customers!" one friend screamed.
Thoughts about staying in an
old place
:
- It's nice if it has been restored
- There are weird angles in some rooms
- Can look a tad creepy
- Windows are fun to play with because they open upwards, not outwards
- A must-try for every city kid
- Get ready to climb lots of stairs
Let's get to business! Firstly, we have to locate the fish market. Took us some time to walk there but it was worth it! Totally fresh and delicious food! Not super, super cheap but you cannot beat the freshness!

Watch me drool!

Over this! $26 seafood platter for two. Yum!!!
I'm not a fan of raw fish but when JY bought some, I tried a piece. It was really good. The fresh taste of salmon. Quite yummy! I'm totally sold. Also shared oysters with JL and K. I think paid $5 for 4? Cannot remember, but I do remember the juicy, nicely chilled succulent flesh of the oysters. O.H M.Y G.O.D!
Day four in Sydney and we still haven't shopped much. How can?! We heard that Bondi Junction has some malls and decided to try our luck there. Besides, Bondi Beach is quite famous too. Let's head off!
Along the way, the 5 of us demolished 1kg of cherries. P and JY served as mobile spitoons, while JL and I took turns to carry the cherries. Nice! I suspected we would be fighting for the toilet soon. After some fooling around at Darling Harbour (again!) and watching some kids perform a dance number, we finally reached the train station.
A return ticket to Bondi Junction cost $5! (I think) Now we can be thankful for the transport system in Singapore: quick, efficient, and cheap (comparatively). But the trains in Sydney very interesting! They have two levels: upper and lower (duh!). We rushed for the upper deck and took pictures, much to the amusement of seasoned commuters I'm sure.

The lady on the left must be commenting about our (over) excitement to her companion.
For some reason, despite heading out at 10am, we reached Bondi Junction at 3pm or so. Must have spent too long in the fish market. Can't blame us, we were deprived.
Indeed, we struck shopping gold at Bondi Junction! A huge, huge mall although most of the stuff can be found in Brisbane. Never mind! At least they had Mango. By the way,
Mango
is known as MNG in Malaysia. My Malaysian housemates cringed whenever we call it Mango. Mango has one less syllable mah! Besides, if you google for MNG, the fashion brand is the 2nd hit, not the first as with Mango. So Mango wins! :P
I only had time to grab a Ninewest bag for mama because we wanted to see Bondi Beach before it got pitch black. Ninewest bags are very, very cheap once there is sales. About $49 for a huge ass bag. Someday, when I'm sure mama isn't reading my blog, I will post pics of my Ninewest babies. :D
We had to take a bus to reach Bondi Beach, much like going to Pasir Ris Beach from Pasir Ris MRT. While waiting for bus 380, a bus lady approached us, asking if we wanted to get tickets. She was very sweet!
Bus lady: Tell you what. Since you are such lovely girls, I will give you a discount.

Whoever heard of SBS giving nice girls discounts?! Although the discount is just a few cents, it was very memorable. Totally made our day. A short trip later, we arrived at our destination.

Bondi beach!

Can you see why Bondi Beach is my favourite beach among all the beaches I have been to in Australia?
We had to fool around on the beach. K wanted to take a picture with a surfer dude but as usual, everyone rushed in to take a group picture once she asked the guy. Damn it! Why is it always me who have to take the photo for them! Pui! It's the same with Todd from Freestyle! I hate you all!!! I will not upload that photo! ):<

We shopped!

Our self-photography skills getting better!

Or not!
I think some of the best fun we had on the trip was at Bondi beach when we tried our self-photography skills on the beach. As the sky turned dark, we laid in the sand and looked upwards. It was beautiful. Almost made up for not having enough time to shop.
Almost
.
We heard there is a famous rib restaurant at Bondi Beach. It was named
Hurricane Grill
. Since we had not made reservation, we could only get a table at 8pm. What to do? Just wait lor. While waiting, we tried to satisfy our shopping urges by going into any shop that was still opened. There was a nice home deco store where I fell in love with a bag. But it cost $200+! Don't have that kind of dough. After exhausting all the shops that were still opened, we popped into Macdonald's for some photo viewing time. 5 cameras later, M, P's housemate, came to join us with her friends. We would be dining together.
Do you know you need bibs to eat ribs?

Ribs bibs!

Salad! Olives suck! Rating: 2.5/5

Ribs rock! But I wouldn't recommend the steak. Ribs rating: 4/5. Steak rating: 2/5
A caution though about Bondi beach: it is very hard to find a toilet! There are almost no public toilets around. So maybe have to do business in the sea. x: Do not tell people you got this idea from me! There is a shop along Campbell Pde that sells deep fried Mars bar. I only took a bite from M's because I was too full from all the food at fish market. But what a mouthful it was! Should have gone back to eat it again. Regret ah... ):
As we were going to catch the train from Bondi Junction, a man holding a glass mug walked towards our direction. We walked briskly because it was a dark area and there were very few people around. I did not want to run because I didn't want to offend the man if he was a harmless old man. But, he walked closer and closer towards us, and looked rather menacing. By then, only JY and I were at the back of the group; the others had walked ahead. I grabbed JY's hand to run towards the others, shouting that we had to catch the train. The old man must have thought that we were weird but I suppose we had to be cautious. Nevertheless, he
did
look like he was going to smash the mug into our heads, and if that had happened, there would not be anyone around to help us unless we ran to the police officers situated outside the station.
We noticed something rather peculiar about the rail system in Sydney. If we had bought a return train ticket from Central station, we had to return to Central station. This does not sound too weird but if you consider the system is Brisbane, the latter seems to make more sense. In Brisbane, the system goes by zones. For example, Toowong, Taringa, and Indooroopilly are in Zone 2. To travel within these places, you pay $x, regardless of the number of stops. You can get return tickets that would be valid the whole day, allowing you to make unlimited number of stops within the zone. For instance, if you get a return ticket, you can travel from Toowong to Indooroopilly, then at the end of the day, you can travel from Indooroopilly to Taringa, because Brisbane transport does not make it compulsory that you can only exit at the stop where you bought your return ticket.
However, in Sydney, you can only go back to the train stop where you purchase your return ticket. Otherwise, a hefty $200 fine will be slapped on you. Even though the stops are all in Sydney city, you do not have the option of exiting from other stops. Gah! Explaining this is so hard!
While your mind is still trying to figure out what I'm saying, look at the next picture.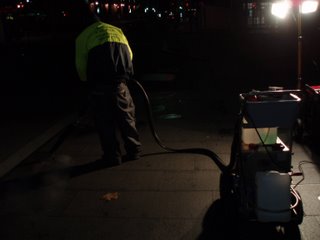 What do you think they are doing?
Make your guess already???
?
?
?
?
?
?
?
?
?
?
?
?
?
?
?
?
?
?
?
?
?
?
?
?
?

They are removing gum!
Someone in the group wondered aloud: if gum can be removed, why must it be banned in Singapore? Good question!