To truly appreciate our amazing walk around Sydney city, you have to pour over the map.

I cringe in horror when I see this map now. Days and days of scrutinsing something does that to a person sometimes.
We started at Ultimo Rd, Haymarket (
see left bottom of map
), and proceeded up the whole of George St to Circular Quay and the Rocks. Since we didn't know where
exactly
the shopping part of Sydney city is, we hailed a bus along George St.
K: Does this bus go to city?
Amused busdriver: You are in the city!
*hasty retreat*
While we tried to ignore the
TOURIST!!!!!!!!!!
stamps on our foreheads, completed with exclamation marks, we pondered about the elusive shopping malls in Sydney. How can we get there?! To our dismay, the bus with the amused busdriver stopped at the traffic light, where he continued grinning at our idiotness. Never mind! We don't need no public transport! We will get there!!! Somehow...
Refering to the map again, we speculated that if we walked along George St, we cannot get lost. So along George St we went, stopping by anything we thought looked interesting. Yes, follow the rule in
Day 1
: walk it till you find it!
I don't know what we did as we walked along George St because somewhere along the way, we missed the whole bloody street and ended at the junction of Bathurst St and Elizabeth St. I suspect it's because we saw the Anzac War Memorial and decided the place was worth checking out. Eh... Now I look at the map, I realise there are big,
bold
letters on it with the words
Sydney City
. Bleedin' blind my friends and I, bleein' blind my fellow tourist friends and I.
No worries, as they say here in Australia. We took some nice pictures in Hyde Park.

In front of the Anzac War Memorial

Reflecting on evolution at the Pool of Reflection. I am not a long way off from being human. Yipee!!!
You can see, quite clearly, who the navigators were.

Me: Hey K, where's the city you reckon?
K: Why don't you ask the driver next time?
Me: *thoughtful silence*
We navigated our way to the next interesting place. Not because we referred to the map, but because we saw it.

Ooooo... St Mary Cathedral!
You see the sun one second, whipped out your sunnies and the rain came pouring down. I will not curse at a place of religion. x:

Truly beautiful inside.
Have you ever wondered at how people build buildings like these? How to get the arches to fit perfectly, how long did it take the architect to calculate that? How do you stain the glass so if remains so decades later? What about all those tiny details on the ceiling?
Being the city kids we were, we could not possibly live without internet. STATE LIBRARY is the must! I made a $2 donation at Sydney Hospital. Then after making sure no urgently important email warranted our attention immediately, we continued on our amazingly long walk to Opera House and Harbour Bridge. Passed the Royal Botanic Gardens, which was largely fenced off, and the Conservatory of Music that looked like a castle. Got all excited when we
thought
we found FCUK, which was just Fook, a convenient store. Blimey!
When we reached the Opera House, we were disappointed. It's not snow white as imagined but yellow and faded. I suppose that's what weathering does to a building. It needs major power bleach, my friends. Still, the cameras had to come out.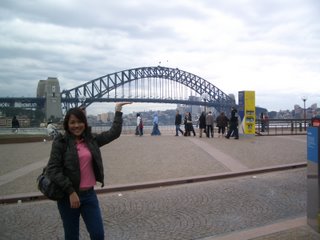 I prefer trying to hold Sydney Harbour Bridge in my palm.

Still got to show you the wonderfully yellow Opera House.
P asked a very interesting question. After our few hours walk.
P: Actually, why is this Opera House so famous?
All: *faux thoughtful silence*
After the obligatory climb up the stairs of Opera House and visiting the pretty artsy Opera House Toilet, we found FCUK en route to Circular Quay!
SALES SALES SALES!!!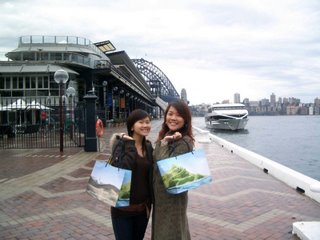 Happiness is shopping! Got a bag, which I suspect my brothers will fight over.
I think my favourite part of Sydney is The Rocks. It is a small area beside Circular Quay where the early settlers first ermm... settled in. Still maintained some of its quaint Europeaness.

Sydney Bridge from The Rocks. I want to go back there! Lots of back alleys to explore.

A search, Mr Police Officer?
From The Rocks, where else can we go but the famous
Pancake on the Rocks
? It's a Pancake Parlour set along George St. The fact that it spelt 'navigation' wrongly in the address of its home page does not negate the fact that it has darn good food and excellent services!

Beautiful nachos. Rating: 4.5/5

Amazing ribs. Rating: 3.5/5

Wonderful chocolate pancakes. Rating: 4/5
After the delicious, engerising meal, we walked along The Rocks and went into the Westpac Museum. Freaky place. I will not elaborate more; you can find out for yourself when you get there. It's across the street from Bushells Place. Oh, and the ad jingle from Bushells tea was our song of the trip. :D All together now... "Is it as good, is it as good, is it as good as Bushells!"
Some exploration and the all important trip to visitor information center, we finally found a map with all the major malls in Sydney. Armed with those, we embarked on our shopping journey. Only to end up with nothing. Oh well, I can shop later. Soon, we found ourselves back on George St, wandering towards the direction of our hotel where we saw the tiny, tiny Japanese eatery yesterday. It was really small, with seating capacity of no more than 12. We had to sit separately.
In the eatery, while waiting for our food, we ascertain once again that guys with really intense looks while they are concentrating on something is fucking attractive. You just need moderate good looks, stir in a look of intense concentration and you get hordes of girls looking in your direction.
HOT HOT HOT!!!
:P :P :P :P :P :P :P :P :P :P *fans self*

My long, long Unagi rice.
We had to retreat to our hotel shortly after dinner because the Day 3 is the day of The Blue Mountains! Not without strolling in Chinatown first because there was a night market and we wanted to get hot buns for our breakfast tomorrow. There was a mini daidee and "or-di-da" (aka Heart Attack) session before we were finally willing to flop into bed. Until Blue Mountains then!