That time of the year is coming round again. The time when girls clutch to their bouquets in glee, secretly celebrating the fact that theirs are bigger than the girl beside them, the girl whose boyfriend will inevitably get a good glaring. The time when "romantic" restaurants get booked to the brim as every female customer comes dressed to the nines with her girlfriend/boyfriend/husband/sugar daddy carrying a long-suffering look on his/her face. It's sure to be a long, expensive night for guys. Yes! It's Valentine's Day! The V-Day when guys rack their heads over where to bring their special someone and girls feign surprise when that oh-so-boring-bouquet of rose is presented to them.
But this day is not just for couples! Singles can celebrate with their (usually still single unless they fancy lighting the way for the couple) friends. Isn't it just
so uninspired
to buy flowers and chocolates, meet up and go dine? Please darlings! Let's try a little something special this year yeah? I'll try to highlight some of the alternatives to the conventional roses-movie-candlelight-dinner-walk-in-the-park/beach day; things I remember from years of flipping magazines and watching sappy movies! And you can do these with your friends too! Let me know if love is in air after this!
***
Hors d'œuvre
In place of those pralines, lingerie and itchy flora you have in mind, why not bake cookies! Never stepped into a kitchen? Don't worry! It's
Betty Crocker
to the rescue!
Now, Ms Crocker has graciously helped us measure flour, chocolate chips and such so that we only have to add eggs and some oil to bake the oh-so-delicious cookies that taste almost like Famous Amos'. What's interesting about this is how you can shape the cookies into anything you fancy. Want a little bedroom action? How about cookie lingerie? Hey! If there can be edible undergarments, what's wrong with some delicious chocolate chips on your favourite person? Giving it to friends? Why not give Ah Kow some bone shaped ones and the stingy friend cookie coins? If you are a bit more hardworking, you can even
make cookies from scratch
!
Presents? Check!
Entreés
Before the customary meal with your v-day date, you should get some action first! Wait! Come back from the bedroom a minute. That's for later. Choose from these options:
(a)Neighborhood Trekking
How many of us seriously explore our neighborhoods? I don't even know where the delicious food advertised on telly can be found in my constituency. The day when everyone is clamouring for town, we should show a little love for the place we live in. Hand in hand with your fellow trekker(s), take a long long walk around the vicinity. Maybe you can find a Zara in Ang Mo Kio, or a Hugo Boss boutique in Bukit Merah (that's some serious hallucination by the way).

Hawker Centers are good place to see look!
In any case, you get to see your territory and can even note down where there seems to be the most no. of people queueing for food. Don't be tempted to eat or you will spoil your main course!
(b) Heritage Trail
However, if you stay at some ulu ulu place that only has the local NTUC and a tiny mall, you can head down to the more "heritagious" places. Little India, Geylang Serai, Chinatown or the Raffles Place area are some good venues to explore! Why Raffles Place? It's because Sir Stamford Raffles is there of course! Besides that, you can go to the
free-entry museum in Raffles Hotel
.
Even if you don't to visit all these places, go to those shopping centers you seldom visit. For example, the Change Alley Aerial Plaza Tower has pretty neat retro shops.

Groovy baby!
(c)Frame It
Remember what are vanguard sheets? Those big ass hard cardboard-like papers we had to get from Popular to make those silly art files in primary school? It's off to your nearest Popular to get one of them for your friendship/love collage!

My neoprint collage! I am in every single picture. Sad hor? :P
Have you seen the 山湖海(?) MTV by Jay Chou where the male lead framed this collage that depicted days spent with the female lead? So romantic right?! So this is something like that (without the break up part in the MTV, hopefully), where you get together to make a little something that is uniquely yours. Photos, small notes, movie stubs, bus tickets (if you even
know
what they are), cards and such can be part of the ingredients for this project. The only problem with this activity is who gets to keep the gem. Hmm...
Entreés? Check!
Main Course
I think it seriously spoils the mood if you have to queue half an hour or more to get a table on this extremely crowded day. There are lots of alternatives where you can enjoy a meal in peace!
(a)Picnic in the Room
Spread the groundsheet! Set the plastic plates and cutlery! Pretend your ceiling light is the sun! All that is lacking is the sand! But never mind. Picnics are really about the food and company anyway! Stumped at what to eat? Try one of my recipes at the side bar! Pretty idiot-proofed lor! I think among all these, the most popular is the
Shepherd's Pie
!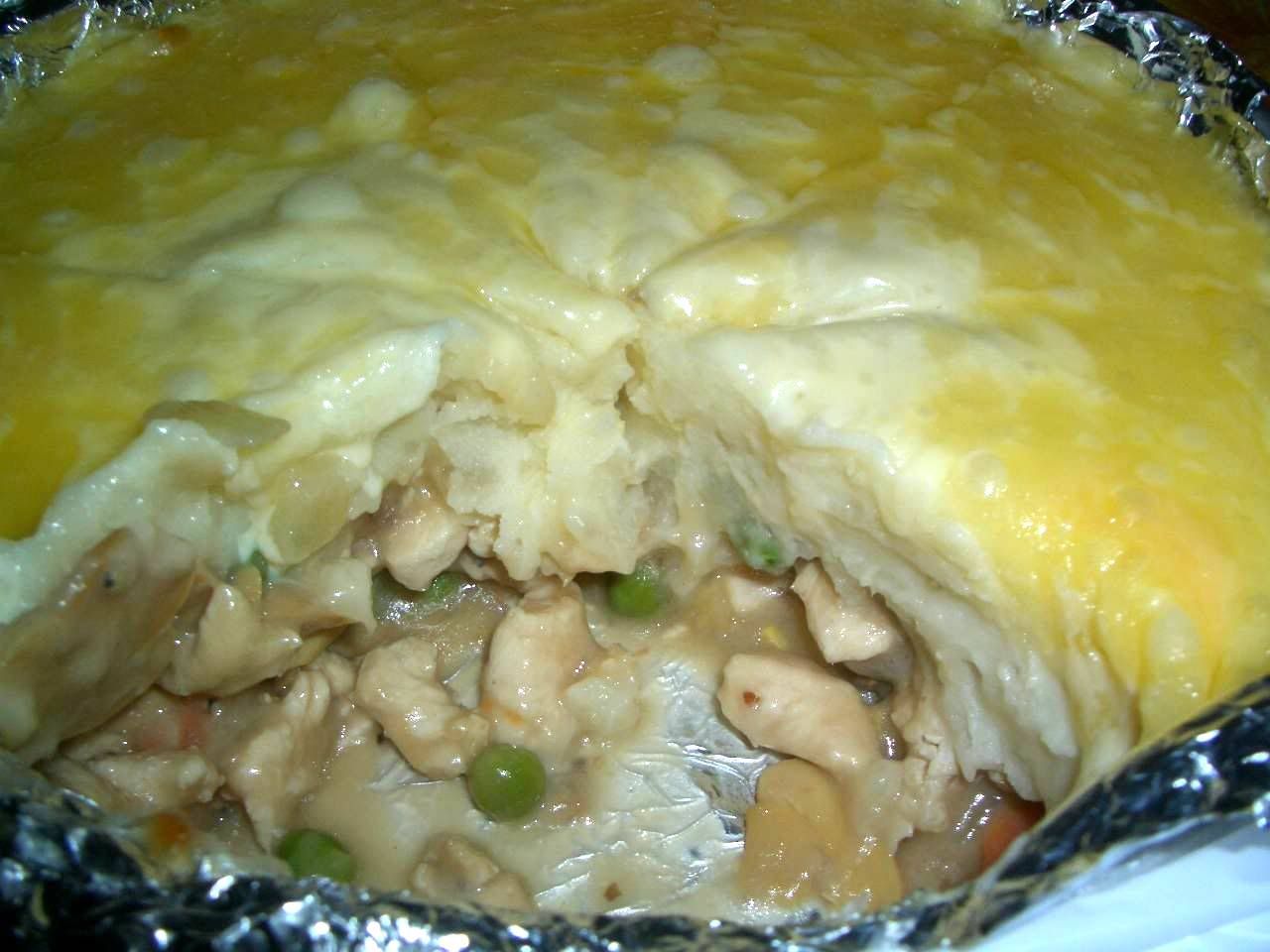 I get hungry from just seeing it. Yum!
If you are not interested in cooking at all, maybe a fruit salad would do? Coupled with some raw oysters and chocolates. Bread as well. That should make you quite full. But it's back to the oh-so-boring meal. Zzzzz... For full effect, don your bikinis and speedos. Don't forget the sunblock as well! The smell is very important!
(b)Junkie in the Deck
Head down to your nearest NTUC and load up on the most unhealthy snacks you can find.

I'm not sure if fried bugs are unhealthy or not. Try and let me know!
Finish the excursion with a trip to 7-11 to get those microwavable food or instant noodles. Then find a nice clean void deck to stuff your faces! Since HDB so nice to give us stone tables below the blocks, we should utilise them!
Main course? Check!
Dessert
You can head for the bedroom already!
(a)E-rotic Massage
Why "E-rotic"? Because you need the internet for these massaging tips. In preparation for this post, I googled "massage" and found
this
as the first hit.
Since the nice people from sexuality.org has kindly provided the tips, I only have one advice: wait for your food to be digested. Dessert is sweet, not pukishly sour. If you are really really hardworking, practise first on your inflatable doll.
(b)Walk and Sing
Walking is good for digestion and the best thing about it is you can do it anywhere! To make it really special, plan a route with significance for you and your date. The place where you first met or the areas where you and your secondary school friends hung out in the past. While strolling, it would be good to belt out old favorites that has special meanings for you! My friends and I have numerous songs that would have us up in stitches while others look at us as if we have gone crazy.
What if people look at us in horror?
Pwah! You think people will have time to look at you?! Rubbish! They are only concerned (faked or otherwise) about their dates and with comparing the sizes of their flowers. You, on the other hand, will be laughing and not lashing out at your partner for giving you a rose that is 2mm smaller than the nearest girl!
Dessert? Check!
***
So there we have it! My amazing guide to having a cheap and unconventional Valentine's Day. It's not such a scary day after all eh? Try my ideas and let me know of your successes! :D