In 2006, I will be celebrating a special year with some of the most important people in my life!

SJ, JT, Me!
A horrible trip back in time! Yikes! We looked so tut then! Peace sign indeed! My two bestest buddies from secondary school! It is going to be a commemoration of our decade-long friendship! Aye... Time had flew... JT even said that soon we will be 50. I am so NOT looking forward to that.
For the first time since SJ and I returned from Australia (she's in Perth, I'm in Brisbane), we went clubbing tonight. Technically, it was not meant to be a clubbing trip; more like a walk-around-Clarke-Quay-see-what-we-wanted-to-do thing. So this thing started at Momo in Magazine Road. In true uniquely ours spirit, we got there 1 hour after our appointed time. And by the time we got in, it was 5 mins after the free entry period. So NO! WE WERE NOT GOING TO PAY TO GET INTO MOMO FOR 15 MINS!
It felt really strange to see younger people who looked very proud to be clubbing. I was very happy when the entry person (What are they called anyway? Door bitch sounds so rude when they are not that bitchy; they are also not bouncer. Usher?) asked to see our ICs. Yay~ I really didn't mind digging for it! :D
Anyway, Momo was a gone case; so it was down to don't know where. We walked towards Clarke Quay's direction and was approached by this girl who told us there was free entry and free flow at this newly-opened (1 month old) club there.
Free = good
, so in we went. The door person was so nice! She showed us around the club and even told us where we could sit. The club is called "The Red Club" and is located beside the former "China Bar". Their housepours were served in wine glasses neh! Classy sia... But when I wanted to order this shooter called "Cowboy" (MUST TRY OK!), it cost $12! Wah lao! I is poor student! zzzz...

Yah... The club really red. I should have ordered a red drink too. Damn! Eh, some clubs in Singapore cannot take pics hor? I don't understand why leh. What's wrong? Scared people steal the design? Relax lah!
There we also met this Canadian guy who bought drinks for us. Some shooter thingy that tasted like medicine. +_+ That place reminded me of the former Samsara. Die lah! I really like old woman, thinking about all the old places that are not longer around now... How?!
Being the restless creatures we were, we left after some drinks to explore Clarke Quay further. Then walked up and down the whole stretch and was surprised to find the reverse bungee thing still around. Come to think of it, I had almost never seen locals get on it. Most of those taking the "ride" are like tourists. My Malaysian housemate said she would love to get on it. Not much kick for me leh. But whatever rocks your boat ah...
The bouncer from "The One Night Stand" invited us into the club and so in we went. I missed getting the UV "chops" here. In Australia, you sometimes feel like pigs when you get the inked stamps. +_+ Somemore, it smudges onto your clothes or until it's just one giant mole. Tak chio, mate! I don't know why some girls we still queuing up leh... We were wondering...
Inside very crowded leh! And I think it would be SPG heaven:

Actually cannot really tell we were at another club hor? Haha...
It seemed like a pretty good place because the girls do not 打量 you! Don't you just hate it when a girl looks at you from top to toe and gives you a smirk? Sometimes you just blur blur staring in her direction, daydreaming away, she acts like you want to steal her boyfriend. Haha... Maybe we are all guilty of that? I also don't know. Not nice to be at the receiving end though. Smile babes, smile! :D
We moved our restless feet along Clarke Quay again because we wanted to see how it has changed and in true auntie spirit, we wanted to reminisce about the times that had passed. How most of the clubs had disappeared except Hooters. I suspect it is because Hooters has certain drawl... Right guys?!
We stopped outside this bar because we finally spotted a queue and wanted to see its name. Very weird leh... Where got club called "ATC TIA"? Then the bouncers jioed us in because it was free entry, free flow and no need to queue so in we went (We also didn't know why people were queuing up). Oooo! It was "Attica"! Haha... Damn suaku sia... We went inside and stood at a corner because the music was House/Trance? Tiu tiu tiu music very hard to dance to lah. Then something very weird happened. This guy walked past us, holding a girl's hand. He balatantly looked at our direction. I thought one of us had booger on our faces or something but realized it was too dark to spot any. Maybe he thought we were interesting 3D wallflowers. Sian... Now I realized we forgot to take pictures there. How to show people our tour? It also drawn upon me that at One Night Stand and Attica, the bouncers didn't want to see our ICs. I is saddened again. :(
We wanted to explore somemore so it was off to somewhere else again. Nothing much happening in Clarke Quay hor. Boat Quay used to be quite happening in our times. Good place to reminisce again. Then walked and walked, talked and talked. SJ's mum once asked her: you all meet so often (about 5 years into our friendship?), still have things to say meh? I also don't know. Hey girls, what do we talk about ah?
Boat Quay bo lang wan! So quiet! Last time above Coffee Bean, there's a live band playing. Now I think you can hear the sounds from the river. Coffee Bean is one of our favourite hangouts with the "$4.60 drink". Last time want to drink must think here think there lor! Now I see so many students hanging around cafes.. Rich kids... Alamak! Walked down the stairs I broke my heels lor! TAMADE! First time wearing and bought for less than a week lor! Stupid shit. Tomorrow if I cannot get some kind of compensation, I will complain here again! Shit you, you stupid shit. My girls tried to placate me ah...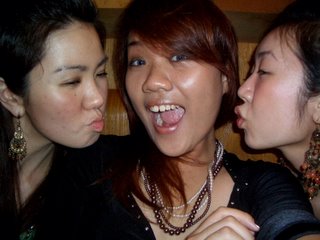 I is a lucky girl! *-*
Later, Coffee Bean also chased us out. We were left with sitting on the opposite side of the river, chatting again. Don't know why we have so many things to say to one another. But if you have someone you can have a conversation with, I think you would know what we felt. The dynamics just make it the most enjoyable activity: just sit around and yak away. Talked and talked hor, then we heard splashing sounds leh! Wah! Got a man swimming in Singapore River! So li hai. He managed to make it safely to our side. Sadly, the police came. I cannot imagine swimming in that river lor. I think in the day when he sees its state, he will wonder why he did it too.
I dedicate this post to my girls, SJ and JT! Hope we get to go on a trip to celebrate our friendship! :D